Murder as a Fine Art
by David Morrell
David Morrell has just been added to my must read list of authors!
I thoroughly enjoyed "Murder as a Fine Art". It had so much to offer in the plot line, suspense and surprises to boot. I was completely drawn in by the writing style, the setting, and especially the characters. Recommend this book to anyone who appreciates quality.
Amazon Reviewer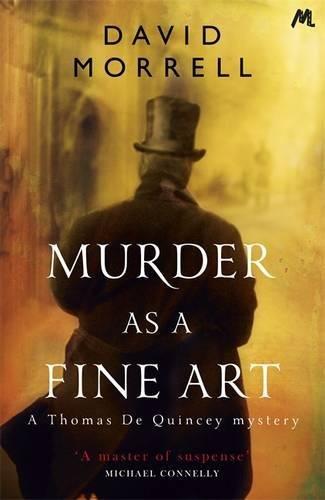 In 1854 London, the streets are being terrorized by a brutal copycat killer–mimicking murders that were previously attributed to John Williams. Thomas De Quincey wrote a controversial essay on the earlier murders entitled "On Murder Considered as One of the Fine Arts."
The copycat killer considers himself an "artist of death."
Using a mallet and a knife, the killer slaughters a shopkeeper, his wife, their children, and a servant. Suspected for the murders, De Quincey–with the assistance of his daughter–must vindicate himself and help the police catch the real killer.
I'm enjoying this book. With intelligent writing, wonderful descriptions of 19th-century England, gruesome action, and a great plot–this is a novel that you'll have a hard time putting down.
I read it . . . loved it, and would recommend it to anyone who loves a good historical mystery.