The Witching Hour
by Anne Rice
One of my favorite novels. Rice's historical knowledge and New Orleans childhood really make this book not only authentic, but really informative as well. The Mayfair family is so well-constructed and fascinating, you won't want to put it down. This book is like a piece of cake…sink your teeth in and enjoy!
Amazon Reviewer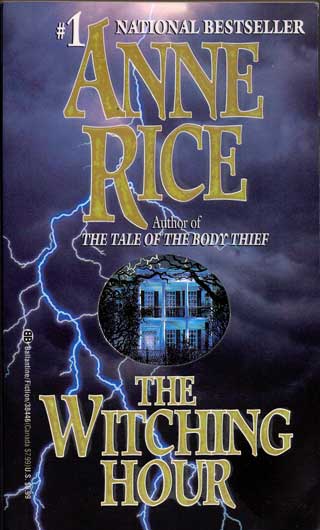 When Rowan Mayfair's estranged mother dies in New Orleans, she is curious about the old Southern family she was born into. Her matriarchal family are known as the Mayfair Witches by the Talamasca–an order that secretly watches over and records the activities of supernatural beings.
As Rowan gradually realizes that she has the power to magically save or destroy life her interest in her family roots grows. Eventually she decides to leave her practice in San Francisco with her lover Michael Curry who is a clairvoyant, and return to New Orleans.
Gaining ownership of her family estate, Rowan soon encounters a mysterious spirit called Lasher with wicked motivations. When Rowan begins to be seduced by Lasher, she leans that this malevolent spirit wants to made flesh so it can walk the earth in physical form. What will Rowan do to rid herself of Lasher? Or, will she succumb to it's wishes?
Another great book by Anne Rice. Check it out and let me know what you think.